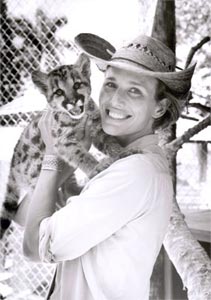 PHOTOGRAPHER: ALEXANDRA STONEHILL
HUNTER RENO, HOST
Adventurer, fashion model, television personality and Miami native, Hunter Reno, has been known to do everything from wrestling alligators in the Everglades to jumping off cliffs in Iceland. An avid kayaker, mountain biker and distance runner, Reno has graced the covers of Vogue, Shape, Mirabella, Mademoiselle, and Fitness.
Before becoming a co-host for WPBT's New Florida show, she spent a year exploring the sights and sounds of Miami on WAMI-TV's Ocean Drive with Hunter Reno. While working for Oxygen Sports she focused on the accomplishments of female athletes.
She also visited some of the world's most breathtaking destinations while hosting the Travel Channel's Exotic Islands. Along with her other television appearances, Hunter has hosted What's Hot for New York's NYW-TV and was a correspondent for HBO Entertainment News.
Hunter has become an important contributing member of the South Florida Community. Her philanthropic activities include being a board member of The Woman's Fund and a supporter of Shake-A-Leg Miami. Hunter lives in South Miami with her husband, Peter Rabbino and their two daughters.
JOYCE BELLOISE - COORDINATING PRODUCER (Season 3 – Turtles, Sea Turtles, Wild Florida Highlights; Season 2 - Wading Birds, Snakes, Dry Tortugas; Season 1 - Manatees, Dolphins, Key Deer)
WPBT Coordinating Producer Joyce Belloise is a South Florida native, born and raised in Miami, and a graduate of Barry University. In her twelve years at WPBT, Joyce's production credits include local magazine shows and public affairs programs, as well as national PBS specials and series. She has garnered several National Communicator Awards and Telly Awards, as well as six Emmy Awards. Most recently, Joyce wrote and produced the Florida Roadtrip series, highlighting little-known vacation spots around Florida. She is excited to re-join the WILD FLORIDA team, as they explore the diverse, but fragile ecosystem of her home state.
MARILU LOZADA - COODINATING PRODUCER (Season 3 – Cranes; Season 2 - Bats; Season 1 - Invasive Exotics, Butterflies)
Marilu Lozada has been working in broadcast production for 14 years. She is Coordinating Producer at Channel 2, where she's written and produced a wide variety of feature and public affairs programs and specials. Her recent documentary "Mi Colombia," which depicts the colorful traditions of the Colombian people, was broadcast nationally on public television. Marilu has also worked as producer of the 11:30 p.m. live national newscast at Univision Network. Currently she is producing a second documentary on Colombia, which highlights that country's rich musical heritage. Marilu has received numerous awards for her work, including an Emmy for Channel 2's statewide New Florida series, a Louis Wolfson II Florida Moving Image Archive Award, a 2003 Wilbur Award from the Religion Communicators Council, a Sunshine State Award from the Association of Professional Journalists, five Tellys, two National Communicator Awards, and the 2005 Bill Leonard Professional Media Award.
ALEXA ELLIOTT - PRODUCER (Season 3 – Coral Reefs, Frogs and Toads, Apalachicola, Sharks; Season 2 - Black Bears, Crustaceans, 10 Thousand Islands, Florida's Springs, Crocodiles)
Alexa Elliott has been working in public broadcasting for 11 years, at both radio and TV stations in Florida and Kentucky. During this time she's worked as a news reporter, as well as produced a wide variety of television programs ranging from historical and environmental documentaries to features for a health and an art magazine show. Her favorite subject to cover has always been nature and the environment, and she was excited to join the WPBT production team in November 2006 to work on the Wild Florida series. Over the years, Alexa has received numerous awards for her work, including a regional Edward R. Murrow Award, an SEJ Award for Reporting on the Environment, two Tellys, two SPJ awards, 11 AP awards and others. She has two degrees in Telecommunications – a Bachelor's from Morehead State University and a Master's from the University of Florida.
MARK BAKER - SENIOR PRODUCER (Season 3 – Florida's Wild Lands; Season 2 – Bats, Black Bears; Season 1 – Alligators)
In 1976, Mark Baker began his television career as a cameraman at WPTV Channel 5 the NBC affiliate in West Palm Beach, Florida. He was promoted to Studio Supervisor then Director for weekend news and public affairs programs. In 1979, Mark joined WPBT Channel 2 in Miami for the studio production of two original public television programs, ¿Que Pasa, U.S.A.?, the first bilingual sit-com, and Nightly Business Report. In 1989 he was promoted to Field Production Supervisor and worked as the director of photography for arts, cultural and historical productions. From 1983 through 1995 Mark also moonlighted as a freelance Steadicam operator and jib cameraman on numerous network sports and entertainment programs.
In 2000, WPBT promoted Mark to Special Projects Producer for the magazine show, New Florida and national documentaries like The Flying Days of Riddle Field and Anatomy of a Hurricane. In 2007, he became Senior Producer and is currently writing and producing for the PBS series, Wild Florida while directing historical documentaries like Miami: Reflections on the River. Mark's programs have earned many awards of distinction for WPBT.
KANDRA VELEZ - AUDIO ASSISTANT & ONLINE PRODUCER (SEASONS 2 & 3)
As the newest member of the Wild Florida team, Kandra Velez joined WPBT - Channel 2 as a fresh-faced intern. After receiving her associate's degree from Miami-Dade College and a bachelor's degree in mass communications from Florida International University, Kandra was hired as a freelance production assistant in 2007. With an insatiable curiosity for nature and wildlife, Kandra fits right in with the show. She helps the "Wild" crew as an audio assist during field work and writes content for the program's website. Whether it's snorkeling in the Dry Tortugas or tracking wolves in the forest, Wild Florida combines two of Kandra's passions, the outdoors and television.
ALLAN FARRELL - SENIOR VIDEOGRAPHER AND EDITOR (Seasons 1, 2 & 3)
After a family trip to Mexico at age eight, Allan's parents were surprised at the caliber of pictures he had taken when given the opportunity to get his hands on a real camera. Some years passed before he could try out a real film camera at the University of Florida, where he earned a B.S in Broadcasting with an emphasis on production.
After graduation, Allan landed a production assistant job with WPBT in 1979. Quickly progressing to associate producer he switched to cinematographer when a position opened and shot and edited film for a brief period before the station converted over to video.
Over the years, Allan has worked on numerous special projects; including the documentary series Common Ground, nationally broadcast Décor, Lady of the Glades and other award winning documentaries. Work with Comtel, WPBT's commercial arm has included shooting for ESPN, Ford, promotional footage for Burt Reynolds and more. He has done aerial work from hot air balloons, helicopters, even a B-17 bomber. A certified scuba diver since age 16, Allan has worked on many underwater water shoots, including shooting inside the world's only underwater ocean laboratory, NOAA's Aquarius. As an adjunct instructor at Palm Beach Community College, he has been teaching Editing and Post Production for the past ten years.Allan has won multiple Emmy Awards, a Telly award, as well as First Place in The Florida Bar, 28th Annual Media Awards.
JEREMY NICHOLSON – EFP PHOTOGRAPHER / EDITOR (Seasons 1, 2 & 3)
Jeremy Nicholson received his bachelor's degree from Liberty University in Television Production in 2001. Since then he has been working for WPBT, first as a studio camera operator, and later moving over to field photographer in 2004. For Jeremy Wild Florida is a perfect fit. He has always loved the outdoors and wildlife, and Wild Florida enables him to experience both. Whether shooting underwater with manatees and lobster, or chasing panthers and bears in the Everglades every shoot is an adventure.
SEAN HICKEY - EDITOR (Seasons 1, 2 & 3)
Born and raised in New Hampshire, Sean traded his snow skis in for scuba fins when he moved to Miami in 1990. After receiving a degree in Sports Management from Barry University in 1994, Sean, a scuba diving instructor, worked for a local live-aboard dive charter business honing his skills as an underwater videographer and editor. Several years later Sean needed to dry his feet and began to pursue a career in broadcast television. He started working for WPBT in 1997 as a freelance audio assist and was hired full-time as a staff videographer/editor in 1999. Five years later he then transitioned into a full-time editor within the Creative Services Department working on many award winning series including New Florida, Wild Florida and Florida Roadtrip. Sean recently won an Emmy for his work on "Anatomy of a Hurricane." Sean and his wife Debbie are currently living in Ft Lauderdale, Florida with their three dogs Simon, Sebastian and Harley and one cat Jake.
BARED MARONIAN - AVID DS/HD EDITOR (Seasons 1, 2 & 3)
Bared Maronian has been an editor for 14 years. He's been with WPBT for 12 years. Since 1999 Bared has been working as an Avid Editor on a variety of local, regional and national TV programs utilizing a number of non-linear editing systems. Bared's production credits include, New Florida, Wild Florida, Florida Roadtrip, The Flying Days of Riddle Field, Tradicion, La Cocina, Leyendas, and a number of Nightly Business Report specials. Many of Bared's works have won awards including a Louis Wolfson II Florida Moving Image Archive Award, National Communicator Awards and Telly Awards, Aurora Awards and Emmy Awards.
JACK KELLY - VP, PRODUCTION (Seasons 1, 2 & 3, Season 3 - Unsung Heroes)
Jack Kelly is Vice President for Production at WPBT-TV. He joined the station in April, 2006. A 27 year veteran of broadcasting, Kelly started his career in San Francisco, where he worked as a producer for Bridge Productions and as a freelance producer/writer for KRON-TV. He began his public broadcasting career in Beckley, WV in 1983 at WSWP Channel 9 as senior producer. He moved to Rochester, NY in 1987 to be executive producer at WXXI Channel 12 where he hosted the highly successful New York Lawn & Garden series. He also created the award-winning Homework Hotline series.
In 1991, Kelly moved to WILL-TV in Urbana, IL as executive producer for production, which served central Illinois. During his eight year tenure there, he launched a variety of award-winning programs and emerging digital initiatives. In addition to his role as host of the popular Illinois Gardener series, Kelly produced a number of nationally distributed documentaries, including Vanished Rome, The Tarahumara: Pillars of the World and The Holocaust: A View from the Heartland.
Kelly moved to KNPB in Reno, NV in 1999 to become the Vice President of Production. There, he created the nationally distributed series, Wild Nevada and House with a History. He also spearheaded KNPB's development of enhanced television and interactive DVD content.
EMILY RICHARDSON-LORENTE - SERIES PRODUCER (Season 1)
When Emily Richardson-Lorente was offered the opportunity to create a public television series highlighting Florida's wildlife, she jumped at the chance.
"As a child, I used to go birding with my Mom in Rhode Island, but I hadn't done anything like that since moving to Florida nearly a decade ago. Unfortunately, when you spend the day in your air-conditioned home or office – and move between the two in your air-conditioned car – it's easy to forget that Florida has all of these wonderful places that are still entirely natural. I hoped that producing this series would finally help me appreciate that and learn to love my adopted home state in a whole new way. I was absolutely right!"
Emily has been with Channel 2 since 2003, when she was hired as a segment producer for the weekly news magazine program New Florida. She has since moved on to become Coordinating Producer of KidVision (Channel 2's programming platform for kids), a role she has maintained throughout the production of Wild Florida. Thus she has boldly – if naively – ignored the old Hollywood admonition: "Never work with children or animals."
Fortunately, she had prior experience with both. Just before joining Channel 2, Emily worked with Lion Television producing the first season of Miami Animal Police, a reality-based program for Animal Planet. Prior to that, she spent five years at a Boca Raton production company. There, she served as the lead Writer and Supervising Producer of Kids Healthworks, an Emmy-award winning 52-part parenting series currently airing on the Discovery Health Channel. She also wrote and produced award-winning episodes of The Cutting Edge Medical Report, a documentary series for the Health Network, Techno 2100, a technology documentary series for CNBC and The Art of Women's Health, a national health documentary series for PBS.
Having graduated Summa Cum Laude from the S.I. Newhouse School of Public Communications at Syracuse University in 1992, Emily then went on to earn a Master's degree in Latin American Studies & International Economics from the Johns Hopkins School of Advanced International Studies in Washington, D.C. "An unforgettable experience," she says, "especially given the student loans I'm still paying more than a decade later."
JAIME GEORGE - PRODUCER (Season 1 - ALLIGATORS)
Jaime George is currently a web producer for Nightly Business Report, the national business and financial news program produced by WPBT Channel 2. Jaime previously worked as a producer in WPBT's local production department, where she had the opportunity to create a wide variety of television content. She produced episodes of Wild Florida and segments for the newsmagazine program New Florida. In addition, she was the main producer of Channel 2's public affairs programs, including Issues and Viewpoint and the Decision 2006 Florida gubernatorial and senatorial debates. Jaime's efforts at Channel 2 have been recognized with three Telly Awards and a Sunshine State Award from the Society of Professional Journalists. Earlier in her career, Jaime was a reporter/anchor/producer at WDTV, the CBS affiliate in North Central West Virginia, and an associate producer/assignment editor at WFTV, Orlando's ABC affiliate. Jaime earned her MBA from Florida Atlantic University in 2005 and also has undergraduate degrees in Film and Radio/Television from the University of Central Florida.
FABIOLA RODRIGUEZ- PRODUCER (Season 1 – Panthers)
Fabiola Rodriguez has been a member of WPBT Channel 2's production team since 2003. She currently produces Channel 2's local public affairs programs, Issues and Viewpoint. Previously, she was a freelance producer on KidVision, WPBT Channel 2's children's programming platform. On KidVision, Fabiola received three Telly Awards and one Emmy Award for creating short interstitials teaching children diverse topics such as: taking care of the environment, eating healthy foods, and how to be polite to others. Fabiola is a member of National Academy of Television Arts and Sciences and the National Association of Latino Independent Producers. She graduated from the University of Iowa with a Bachelor's degree in Communication studies.